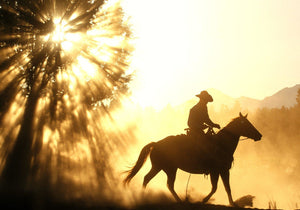 I often hear about workers complaining about treatment from their employers, or companies being fined for bad practices, but I don't often hear companies that do well get praise. When you go shopping, you often think about the price of the product, and the quality you're getting for it; but do you ever think about who made it? When a company treats it's employees like family, manages to be a global brand while keeping the majority of production local, and has high values, you've got a winning combination.
Today, that's Weaver Leather Co., the next in our Wholesome Brand Showcase.
Weaver Leather Co. started out over 45 years ago in 1973, when Harry A. Weaver went into business for himself, opening up the Fryburg Shoe Shop in a 20'x40' garage that he rented out. He mostly focused on shoe repair, but he saw potential to expand and begin serving customers in new ways. This tiny company began handcrafting leather horse and cattle halters and selling them to local shops. They became quite popular, and with leather good production growing steadily, Harry renamed the company to Weaver Leather Goods. These next few years brought countless opportunities to manufacture leather halters, arborist saddles, and other leather goods.
During the 1980s, there was a huge amount of growth for Weaver Leather Goods with an increased demand for high quality, handcrafted leather goods. In 1983, Harry's son, Paul Weaver, became President of Weaver Leather Goods. During the 80s Weaver also founded Weaver Distributing Co. to handle leather and hardware, which ultimately merged with Weaver Leather Goods to form Weaver Leather Inc. Family is as important to Weaver as it is to you.
During the next two decades, Weaver pioneered new products, such as the patented Miracle Collar, which comfortably fits a horse and applies just enough pressure to prevent "cribbing", which is when a horse bites a stall door or railing, and the Lil' Dude Stirrups, which allow child sized stirrups to be attached to a full sized saddle, preventing the horse from being pinched and helping the rider learn faster. On top of all this, they started their own line of leather working machinery called Master Tools. That's a lot of development!
Weaver is unique among manufacturers, because as opposed to using robotic machines to speed up manufacturing, they hand craft their leather pieces with a 60% Amish manufacturing staff! The Amish people have a very long history with leatherworking and produce some of the finest work in the world. The majority of this work is done at their original facility in Mount Hope, OH. Tradition and history are in each and every piece!
They don't just do leatherwork though; they are also one of the world's largest producers of nylon goods as well as a leader in riding helmets! According to the company, on average they have a stock of over 4 million pieces of hardware, at any given time. Can you imagine the selection?
"No matter where an item comes from, we want to ensure it is top quality," says Jim Weaver, Supply Sales Manager, "We look for vendors who share our Quality First mindset. If we wouldn't use a product ourselves, we won't sell it." The product manufacturing at Weaver Leather is largely done by Amish employees. "The manufacturing work day goes from 6 a.m. to 2:30 p.m., five days a week. No one works on Saturdays. We are fortunate to have such a dedicated workforce and people who take great pride in their work and craftsmanship," he says.
The Amish are not only Weaver Leather's employees, they're a piece of the pie! Members of this community, who reside in Ohio and neighboring states, represent between 8 and 10 percent of their leather and hardware customers! As it turns out, Holmes and adjacent counties in northeastern Ohio comprise the largest concentration of Amish in the world. They take pride in their work and it shows by the fact that they use them! How cool is that? Imagine being the one who made the product you just brought home from the store!
Your horse deserves the best leather goods, and the best goods are made by the best people.
Next time you put that halter on, ask yourself:
Do I know who made this?
***
Check out Weaver's website if you'd like to learn more about their history! Weaver's family values, long American history and heritage, and their commitment to quality leather workmanship, traditional workers, and horse comfort, makes them one brand that we are more than happy to show love for!